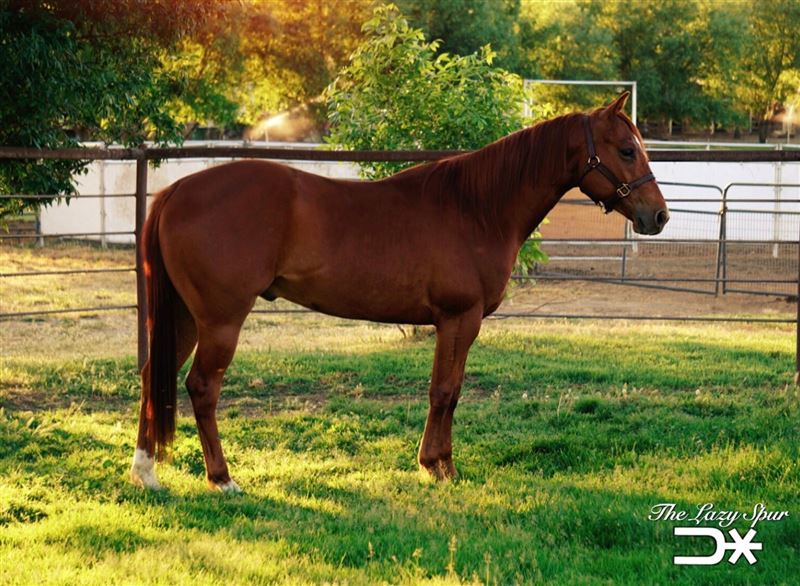 Registered Name: TLS Dat Guys A Lynx
Price: $16,500.00

Sire: Dats A Frenchman
Dam: Mels Song
Height: 14.3
Sex: Gelding
Age: 3
Color: Chestnut

Contact: Shawna S Byington
Location: Kennewick
Cell: 5093-308-1902
Email: thelazyspur@gmail.com

3 year old gelding by Dats A Frenchman out of a Docs Lynx bred mare with over $75,000 in earnings heeling. The gelding, meets you at the gate, is correct, kind, athletic & has a great willing work ethic. He has had 60 days with our trainer & is currently back home & is lightly started on the pattern.

TLS Dat Guys A Lynx has been paid into Pink Buckle (2018 payment) Future Fortunes ( paid in full) he is eligible for Triple Crown 100 & Select Stallion Stakes (grandfathered rate if paid by 12/31/18). TLS (The Lazy Spur) has a ranch incentive. The first Dats A Frenchman born after 2014 that wins either the Greg Olson, VGBRA, Fizz Bomb, Diamonds n Dirt or PINK BUCKLE Futurity will receive a bonus of $5000, split $2000 to the breeder, $3000 to the registered owner.

Dats A Frenchman is a PROVEN COMPETITOR & PRODUCER, DAF progeny are winning all over the US, his offspring have #313,987 in Equi State earnings & over $550,000 in Lifetime earnings.